GBO docs behind the scenes: Dr. Christopher Dolan
Orthopedic Volunteering for Nevada's Athletes
We go to sporting events to enjoy the prowess of the athletes, but what happens when they get hurt on the field?
A report by the College Football Assistance Fund shows that more than 20,000 college football players are injured each year. The main types of injuries for college football players, as reported by the NCAA, are concussions, injuries to the head, face and neck, upper limb injuries, torso and pelvis injuries and the most frequent being injuries to lower limbs. The same report states that 17.8 percent of all college football-related injuries are to the knee of the athlete.
The numbers vary for different types of athletes, but the risk of injury is common throughout high school and college sports. The risk of permanent injury is even higher if there isn't a doctor on the sidelines.
The Nevada Sports Medicine team of athletic trainers and medical staff oversees the physical well-being of all Nevada student-athletes, with many area physicians volunteering their time to assist.
Three Great Basin Orthopaedics doctors - Dr. Rick Mullins, Dr. Travis Kieckbusch and Dr. Chris Dolan – are among these volunteers, serving as the official Orthopedic Consultants for the Wolf Pack.
In addition to the expertise they donate to the Wolf Pack, GBO doctors volunteer for Western Nevada College, Justin Sports Medicine Team and numerous northern Nevada high school athletic departments.
GBO on the Sidelines
"We exam the athlete and then make a decision on whether they'll need further care," explained Dr. Dolan. "We have to make sure the athlete isn't putting themselves at risk by returning to play."
Common injuries associated with organized sports are often related to joints, ligaments, muscles and bones. The presence of medical professionals, specifically orthopaedic professionals, on the field may prevent athletes from further injury.
"We had a Wolf Pack football player dislocate his shoulder in Wyoming. I was able to put it back into place right on the field," Dolan said. "That's a much better option than having him wait hours to get into a hospital."
When injuries aren't addressed immediately, they could result in permanent damage. "If an athlete damages his ankle (something that is pretty common) and it's not addressed, it could damage other areas of the body," Dr. Dolan explained. "This could mean permanent damage and perhaps losing their athletic careers."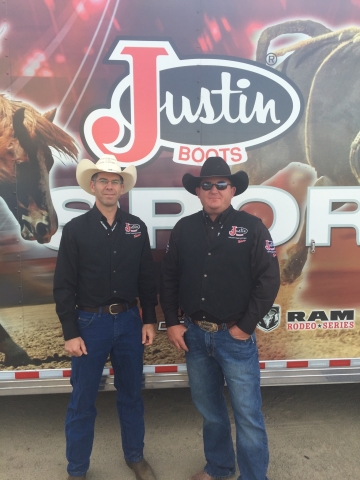 Dr. Dolan at the Reno Rodeo
Dr. Dolan started volunteering for the Reno Rodeo, through the Justin Sports Medicine Team, at the request of Dr. Kieckbusch. "He's been a cowboy from way back and so this was important to him," Dolan said. "Since it was important to him, it became important to me and these are some of the most appreciative athletes I've ever worked with."
According to a recent study published with the National Center for Biotechnology Information: "Prevalence of injury is high, especially in rough stock events, which include bareback, saddle bronc and bull riding. In bull riding, the incidence of injury is reported at 32.2 injuries per 1000 competitor-exposures. While a number of different injuries can occur during bull riding, concussions are often the most alarming." 
Dolan says that rodeo cowboys, while appreciative, also tend to be stubborn. "The injury has to be pretty bad for them to choose not to compete, but we can still override them," he said. "It is not uncommon for us to put them in an ambulance and send them to hospital in the middle of the rodeo."
Sports are an important part of life for many Americans. To keep athletes safe as well as fit to play, many athletes depend on the care of community doctors who volunteer their time to help their teams succeed. The GBO doctors donate their time to help keep these athletes safe. For Dolan it's because of a love of the game. "I'm from Reno and proud of this community, this is one way I can give back to it," he said. It's also the one place where his young children can watch him work. "They're not coming to the operating room with me, so this gives them a better idea of what I do."