The people behind the scenes
You talk to them when you call, you see them when you check in and when you leave. They schedule your appointments and handle your referrals. The GBO office staff are such an integral part of Great Basin Orthopaedics (GBO), we thought it was high time to shine a spotlight on them.
The Phones
When you call GBO, you'll talk to either Katelyn or Marisol. If you're speaking Spanish, there's a good chance it's Marisol. Katelyn has been with us for the last 2.5 years, since first visiting GBO as a patient. "I was seeing Dr. Hayes and Dr. Mullins," she says. "They got me back to doing what I love in such a great way that I wanted to work here."
Marisol joined us nine years ago, originally working with Dr. Fyda and Dr. Hayes at Alpine Bone & Joint. When Alpine merged with several other area practices to form GBO, Marisol moved to the new practice. "I like that I get to help our patients form their first impression of us before they even come in to see the doctors," she says. "When I hear them say 'thank you so much for getting us in, you've been great,' I know every day that I'm helping people." 
Nicole rounds out the phone team, and she's the one who makes sure everything runs smoothly with the insurance companies. She has worked in many different facets of healthcare for nearly 20 years, the last seven at GBO, also coming from Alpine Bone & Joint. "This is an overall great place to work," she says. "The doctors are very caring and treat their patients and staff members very well." 
The Front Office
When you enter GBO, Vicente and Destinee greet you. They gather your information, take payments, answer your questions, and then let the doctors and medical assistants know you're here.
Destinee has been with us for a year and a half, and she enjoys her face-time with GBO patients. "I like that I get to know our patients and find out how they're doing, before sending them to the back to see the medical staff," she says.
Vicente has been in healthcare for several years, working for an optometry office before joining the GBO team. "I really like the environment here, everyone is friendly," he says. He believes one of the most 
important things affecting the patient experience is who the patient sees at their appointment. "Everyone who comes here sees a doctor, not like other places. This way our patients can be sure they're getting the skilled attention they need."
Destinee also appreciates GBO's patient-centric approach. "Everybody works hard and puts our patients first."
The Back Office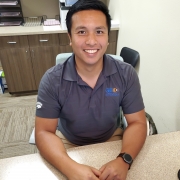 Deo and Bri are your check-out team. They handle rescheduling, share progress notes with you and make sure they have accurate contact information for follow-up questions.
Deo handles all physical therapy (PT) referrals, assisting patients in getting set up properly for their aftercare. He's well prepared for the role, after working upstairs in the GBO PT clinic as a tech for a year. "It's similar in that I'm still helping patients get the help they need," he says. "When I first meet our patients, they're in pain and it's great seeing them as they go through therapy and get back to being themselves again." He loves telling the story of the patient who came in pushing a walker, yelled at them to look at her and then she threw the walker to the side. "It's a really great feeling knowing what can happen through this process," he says.
Bri joined our team in the summer of 2019, following a 20-year career in health care, most recently working for a diagnostic imaging center in town. As our MRI coordinator, she's responsible for scheduling and preparing patients for their MRIs, which includes doing their safety screenings and insurance authorizations. "There's a lot more to this than people think," she says. "MRIs are giant magnets, which means we need to know if our patients have any kind of metal in them, including artificial limbs, cochlear implants or stents."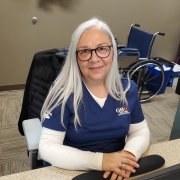 Bri is excited about the new and improved technology behind the MRIs. "It's kind of miraculous what you can see, compared to years ago," she says. "It's like going from a black and white TV to a high definition screen."  
The Bottom Line
We're grateful to have such a knowledgeable and friendly administrative team assisting our medical staff. Our entire team is united in our goal of helping you heal and get back to your life. Give us a call at (775) 786-6100 if there's anything we can do to help you address bone and joint challenges that are holding you back.