Hiking Advice and Injury Prevention from An On & Off The Trail Expert
Dr. Richard Hayes, a lifelong hiker and fellowship-trained foot and ankle specialist at GBO, owns the 'practice what you preach' mantra. His love affair with hiking combined with his extensive orthopaedic expertise gives him the holistic view required to share valuable, real world advice on enjoying hiking and avoiding injuries.
Dr. Hayes' Hiking Resume
Dr. Hayes grew up hiking in the Great Smoky Mountains in Tennessee and North Carolina. He loved it so much, he joined the volunteer rescue squad as a teen, and volunteered to be on the mountain search and rescue team while in college.
So when Dr. Hayes headed west to Nevada to begin his career in orthopaedics in 1993, the Sierra Nevada Mountains naturally piqued his interest. "It's an incredible place here," Hayes said. "You can drive 10 miles and go hike. Washoe County has hikes for entry level hikers and beyond."
Thankfully, his wife and three children caught the hiking bug, too. Together, they have done three section hikes of the John Muir Trail in the Sierra Nevada—the longest being a 10-day, 110-mile hike. All three hikes, including the most recent one completed last August, have involved summiting Mount Whitney.
"It's a good way to get to know your family. You have to deal with issues together," Hayes said. "Our daughter – probably the most fit of everyone - got altitude sickness at one point. We had to carry everything for her and descend a bit, but we worked through it and finished our planned hike."
Next, Dr. Hayes has his sights set on hiking the 165-mile Rim Trail.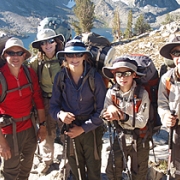 Dr. Hayes' Hiking Advice
If you're looking for great advice on hiking, who better to turn to than a highly trained foot and ankle surgeon who also happens to be a well-seasoned hiker? Dr. Hayes offers up the following advice for hiking success:
1. Wear The Right Shoes
Hiking boots aren't for everyone, Dr. Hayes believes. In fact, he recommends that you hike in the same shoes you've been training in. Are you used to wearing tennis shoes? Wear those on your longer hikes. Been training in barefoot shoes? Those are most likely the best footwear for you as you hit the trails.
"Having the proper footwear, and breaking it in, really is at the top of the list of things hikers should pay attention to," said Hayes. "I refer at least 20 patients a week to stores like Reno Running Company, Eclipse Running, REI and Scheels."
2. Use Trekking Poles
Dr. Hayes also recommends using a pair of trekking poles. "They help prevent falls and injuries, especially in tough terrain and when crossing streams." For under $100, hikers can find decent poles, which will more than pay for themselves by preventing just one injury.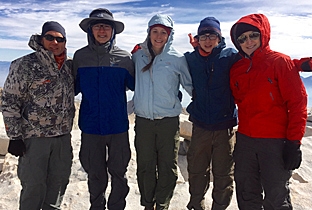 3. Train Well
"If you're planning a multi-day hike, don't just show up and do it," Dr. Hayes said. He recommends doing a few 15 to 18 mile day hikes without a pack—longer than a typical day's journey with a pack on a multi-day hike. "That will help avoid injuries down the trail."
To prepare for a multi-day hike, Dr. Hayes suggests cross training. Cycling, treadmill workouts and swimming are among the types of cross training the Hayes family did to prepare for their John Muir Trail section hikes.
Prepare for your next big hike by adhering to the aforementioned pieces of wisdom, and do your homework to learn other ways to prevent hiking injuries. For help if you do get injured, contact the team with expertise to assess, heal and get you back on the trail.