GBO Patient Diary: Appointment 9 - 7-week follow-up — Taking a big step forward
In our continuing series, we're following a real GBO patient, Gio, from diagnosis all the way through treatment at Great Basin Orthopaedics. Be sure to check back for updates as we follow the journey, which is documented by his mother, Paige.
If you'd like to catch up: 
Today my son got to drive his car.
This was very exciting. His car is a manual transmission.
At 7-weeks post-op, he is off crutches, out of the rigid boot and in a lace-up ankle support. Dr. Hayes gave him the OK to drive a stick. All of Gio's questions for the doctor today were about what he can do now that he is weight bearing and feeling pretty good. Can I drive a stick? (Yes) Can I ride a bike? (Yes, on the road) Can I wake board? (Not yet, probably after next appointment in three weeks) Can I jump off cliffs into water? (Not yet, give it some more time).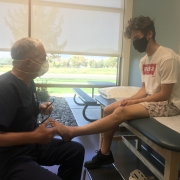 At the beginning of this process, when we were told the recovery would be three months, I focused on him not being able to do anything until the end of September. The fact is, you gradually add to what you can do based on your progress (duh), so I'm feeling really good about where Gio is right now. The challenge will be making sure he doesn't go to fast, too soon just because the ankle feels good.
All fall sports were cancelled this year due to COVID-19 — which is a blessing for a kid recovering from ankle surgery who desperately wanted to play football his senior year while his mother was very concerned about jumping back into a sport so hard on the body. COVID sucks, but not having to fight the urge to jump back into sport is a relief.
We have another follow-up scheduled in three weeks, and Dr. Hayes believes this will be our last appointment, releasing Gio back into the wild where all 16-year-old boys belong.